Outpost 112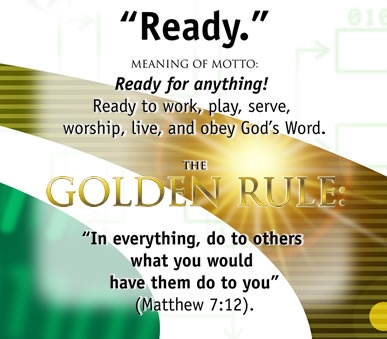 In keeping with our mission to "Reach, Teach and Keep Boys for Christ," the Royal Rangers national leadership is in the process of revamping the specifics of the ministry to broaden its appeal, while keeping the aspects that have made the program a success.
One of the considerable tasks being undertaken is an effort to make the program and its advancement structure easier to understandboth for boys and their commanders. Listed below you will find the new classes for the boys.
South Central Region Web Page
North Texas District Web Page
http://www.royalrangers.net/ntd/index.htm
The Offical Royal Rangers Webquarters
Sr. Commander: Wayne Word
Royal Rangers is a national program to meet the physical, spiritual, mental and social needs of boys and young men ages five through 14. The ultimate goal is to help boys recognize and assume their place of leadership as responsible followers of Jesus Christ. Our motto is to reach, teach and keep boys for Christ. We recognize that the boys we reach today will be the leaders of tomorrow! Dedicated leaders, called commanders, provide boys the necessary direction during a weekly outpost meeting. The meetings are designed to develop the total boy for Christ and offer love and understanding between the boy and a godly role model.
Commanders: Robbie Rinehart
Representing kindergarten, first grade, and second grade boys.
This impressionable age group is foundational in providing the background and training for additional participation in the Royal Rangers program. Its challenging and fun advancement system encourages boys to learn utilizing indoor and outdoor activities and games. The weekly lessons and objectives help to reinforce godly principles in their daily lives. In this age group the boys have an opportunity to achieve many advancement pins that can be placed on an awards vest and worn each week as part of the official Royal Rangers uniform.

Commanders: Wayne Word
Representing third, fourth, and fifth grade boys.
The Discovery Rangers program features an exciting Premier Advancement System. In this system boys will learn through camping and non-camping activities. An emphasis is placed on learning at their own pace in a merit-based curriculum.

Commander: Michael Samons
Representing sixth, seventh, and eighth grade boys. Adventure Rangers participate in more challenging camping and outdoor activities while emphasizing skill development, advanced camping, Junior Leadership Training, Frontiersmen Camping Fellowship (FCF), Bronze, Silver, and Gold medals with national recognition. The weekly planning guides will encourage the boys to learn and stay on course for the Gold Medal of Achievementthe highest award a boy can earn.

Commander: Michael Samons
Representing ninth through twelfth grade boys.
This is considered a high action-packed adventure trail in which the Expedition Ranger is further challenged by advanced camping and camp craft skill opportunities. These extreme activities offer boys in this age group opportunities to become more self-reliant and develop confidence and a greater appreciation of God. Several advancement programs are available including Air Rangers, Sea Rangers, Trail Rangers, Chaplain Rangers, High Action Rangers, and more. Boys will be challenged to service through Home Missions, Foreign Missions, Youth Ministry, Mens Ministry.